Breakfast & dishes
From home cooking to fine cuisine
In our restaurant, an breakfast buffet, with which you can provide yourself with energy for the day, will await you in the morning. Breakfast times are from 7:00 am to 10:00 am. If you have to leave very early, it also is possible to have breakfast at 6:00 upon arrangement.
For lunch, we serve a selection that changes daily of tasty dishes and regional specialties. Take a look at the notice board in the restaurant or in the foyer in order to get to know what our kitchen has in store this week.
For the sweet hour in the afternoon, there is a large selection of cakes and tarts. Treat yourself to a piece of these delicacies together with a coffee speciality – or perhaps rather a sundae? Of course, also a large selection of cold and warm beverages, with and without alcohol, is available in our restaurant.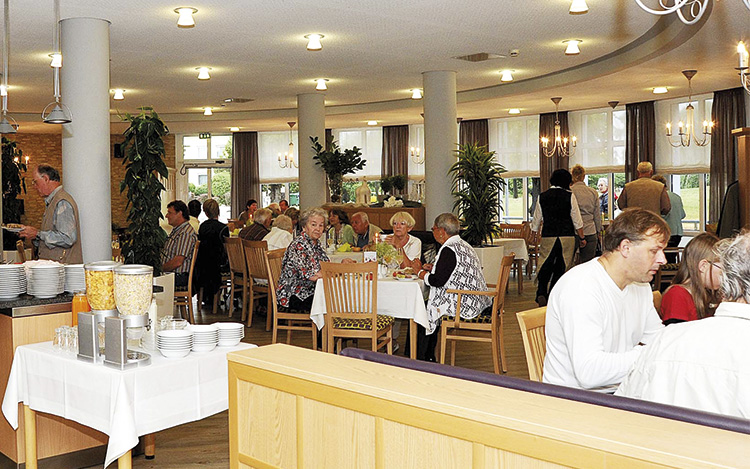 Our restaurant
Please take a seat in our comfortable guest room, which is, of course, fully wheelchair accessible. Through the large glass front, you can descry the picturesque castle ruins. In summer, our terrace is a very popular place.
Opening hours
The restaurant is opened daily from 7:00 am to 5:00 pm.
Breakfast from 7:00 am to 10:00 am.
Lunch from 11:30 am to 1:30 pm.
Coffee and cake from 1:00 pm to 5:00 pm.